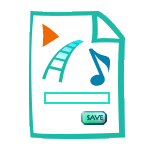 Multimedia in 1 file



A digital brochure is a very useful way of communicating because your presentation can be sent as a file and the receiver can save it and study it offline.

Your presentation can contain all types of media, like websites, including film and animation.

Your presentation can be interactive, be played like a power point presentation and much more.

View an example

The multimedia file is very relevant now when many work on new types of equipment; mobile phones with bigger screens, iPads and many other forms of tablets and computers - and these types of devices are often used while out of the office on a slower internet connection and often offline.

Using the digital presentation you can inform your clients and co-workers about your products, services and other information from your business or organisation in a very efficient way.

The digital presentation is a great media for presenting business profiles, for teaching, supporting, testing and many other work tasks, where communication is the tool.






LIKE our Facebook PAGE and get the news about film releases, good offers, courses and share experiences working with media and IT.