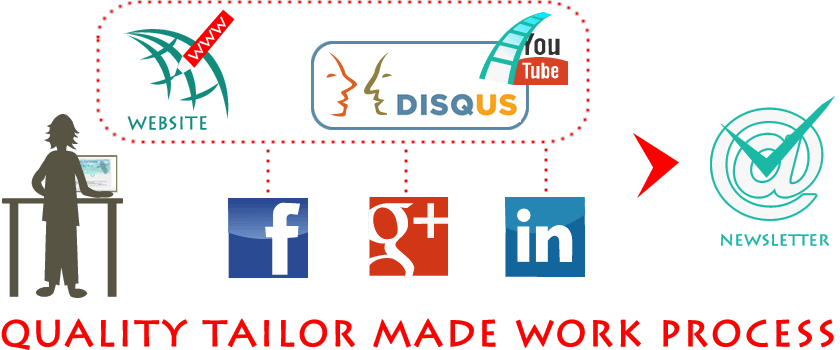 The effective work process in online marketing is custom made.
This is a BLOG. You are invited to comment below.

A work process related to IT/marketing efforts should take shape from a very deep and accurate analysis of:

- the resources you wish to invest
- the profile of your product/services and of your company
Every task can be prepared in advance of publishing, and posting in social media can be set to a time plan in automatised solutions. However, this is far from the whole solution.

It is essential what you publish and the way you follow up. When you introduce relevant information, you awake precious interest and it is importants that you meet every request, that follow your publications, with real answers in a timely fashion.

A real answer will at best cause your visitor to subscribe to your newsletter, call you up or even press the order button on your website or Facebook page.

Whether you respond in a timely fashion online is relative to what platform you use:

- On the website, respond within 24 hours
- In Facebook, respond within 2-6 hours
- In a chat, respond instantly or with a max. delay of 15 sec. Give an instant "wait for us" message.

(These timings are based on my 20 years of experience working with online- solutions for businesses.)

To be a pro with timely fashion, you need to plan what, where and when you publish information that is intended to trigger communication with potential costumers. It is an advantage if you have your own webpages, which you can link to in your comments and which can expand on your answers and can lead to client commitment.

I suggest you consider which concepts you could share as an expert in order to acheive a good dialogue with potential clients, and assess how much time you wish to spend writing your blog and when, and for how long, you can be available to reply to comments and questions. Also, you need to find out, if the media and other source material, which can substantiate your information, is available and, if not, how and when you can have it ready.

When all this is in place you can make your online marketing plan. In order to keep your material on your website, where new visitors can read and comment in future, it is best that you publish your information in a Blog on your website. The blog-platform can be, for example, Disqus or an embedded Facebook discussion-thread. Which one, you choose, will depend on your target group. With Disqus, visitors do not require a Facebook or any other social media account. On the other hand, using Facebook, you can a achieve a more dynamic and instant debate involving your Facebook contacts, while your Disqus based blog often can be found more easily by everyone.



Planning how your communication is going to happen enables you to perform professionally and also keep the time budget you have assigned.

Here are examples of our solutions for custom made work processes:


Easy Work Life package
Fully exploit the potential of your products
Webdesign, film, social Media, workflow
Price from £350




Promotion starter kit


Work with experienced professionals who have a keen eye for the essence of your business
Website, various digital media, film/animation, print media, signs, SEO, tuition and support
Price £475


Elizabeth Thomsen on Google+






LIKE our Facebook PAGE and get the news about film releases, good offers, courses and share experiences working with media and IT.